I know I am very late, as in it isn't even fashionably anymore, but I still want to wish you all
A WONDERFUL 2014
May your best day in 2013 be your worst day in 2014. 
I hadn't even realized how much time had elapsed between my last post and this one, until I started to receive inquiries about why I hadn't blogged for a month. A MONTH, no, what are you saying, you must be wrong, it  really has only been two weeks……
Hmm I guess I fell off the wagon and then some.
Christmas break was wonderful and very needed and then the starting up of work and responsibilities was extremely hard. But I feel I have found my rhythm again so here I am.
But I do feel that a bit of looking back is still in order. As much to revel in what I accomplished as to give myself inspiration and motivation to make 2014 even better. 
At first I thought 2013 had been a slow year. Until I started to go through my own archives, my saved emails and my calendar for last year. As it turned out I had quite a few blog highlights to celebrate last year. 
So do you want to reminisce with me a bit?!
2013 was the year that 
300.000 different people came to my blog to see what I was up too or to learn more about one of my projects. That just blows my mind that is by far twice as many people as the population of  my town. So gather up all the people that live in my city, double it, add another small town and then you have the number of persons that visited this little corner of the web. AMAZING! (yeah I know it looks like I am shouting but I am!).
All those people together strolled around my little blog and brought me to the brink of surpassing 
 1 million pageviews in a year!
Again, b.l.o.w.s  my mind. 
 But I never think of that number of  people when I write a post (maybe I should).
Instead I think of certain people dear to my heart. Beautiful women I have never met, but that feel like friends. When I come over here and think about what to write about next I imagine myself sitting at the kitchen table, with a hot tea in hand just chitchatting with you all about our latest project and how much it scared us to start it, and how – now that it is finished – we can't figure out for the life of us why it took us /me so long to just do it. That's how I write. And usually when I am working on a project, down in my basement or up in my craft room, I am actually having whole conversations with you in my head. 
This little blog has grown way beyond what I ever dreamed about it, but it is still feels like me and you hanging out together. And I like it that way just fine. 
With that in mind here are my top five commenters in 2013 (not that this is a contest but a little extra gratitude is in order).
Gwen, Emilou, Lorrie, Siggie and Donna, you ladies, you rock!
I love you ladies! I really am so grateful for you!
Sweet Gwen from California doesn't blog (as far as I know) but she should. She always writes me the most beautiful comments that brighten up my day. She has a way with words. I love reading what kind of memories or thoughts popped up in her head because of something I wrote. I am sure my life and Gwen's life could not be any more different and yet we seem to connect. 
 You write and the words are relaxing and calm. Like you are just sitting down and talking to each of us! 
Emilou lives in Oregon somewhere were she doesn't have close neighbors, where the wild flowers are done blooming way before ours, where the lilac bushes are big enough to build forts in them and where the nearest Ikea is two hours away (the horror!). Isn't that wonderful that we found each other and are learning so much about the lives of people so far away.
I love coming to visit you here!  It is like having a friend (which you are)  in the Netherlands.   And I am relearning my geography!!! 
Lorrie blogs over at Fabric Paper & Thread, she is from Canada and she is the best commenter when it comes to answering my questions. I am always asking questions in my post and I can always count on Lorrie to catch them and to answer them and to let me know how, when and why a little project of mine has inspired her with hers. I love that! It's like receiving little text messages from a friend to let me know how something turned out. 
Siggie is a private blogger who shares my love for white. She lives in Germany, but I think she has American roots. I guess I should know that since she has been a reader for a long time. It is such a wonderful feeling to see one of her comments pop up again. 
 I don't understand it [ the magic of blogging ] either sometimes, but maybe it has something to do with connecting with like-minded people all over the world?  Whatever it is, I enjoy following along.
You all know Donna from Funky Junk Interiors of course! She is a blogging celebrity and it blows my mind that she still has the time to be in my top five of commenters. It humbles me and makes me so very proud. I just love Donna – as I am sure you all do – I never met her, but we are working on that……
 I come here to forget about noise.
Grin, that last one made me smile. I am not exactly known for not making a lot of noise…..
New readers most often find me through Google, Pinterest of Facebook. But some find me because some sweet blogger was sharing the love. Here are my top five referers for 2013.
top 5  Referrers. 
These are all wonderful, rather big, and definitely very successful blogs. Whatever their business was to refer to me, I can't understand, but I love it. Thank you Donna, Karianne, the Nester, Gina and Melissa for sending some of your awesomeness my way.
Okay and now unto some of the highlights in my blogging life in 2013
January
I participated in a little contest named Guess the blogger.
It was so much fun, but the memory of actually posting one of my embarrassing teenage photos online still gives me the chills. 
February
February was the month where I made my first ever  TV appearance. That was scary, unexpected and fun. It was for our regional TV station and trying to explain this international blogging thing of mine was quite a fun challenge.
Just as much fun that month was that sweet Andrea made me the Cottage of the Week at Cottage Market. I always love seeing my own blog through someone else's eyes. Thanks Andrea for making one of the highlights in my blog life happen.
March
March brought another feature my way. This time it was sweet Southern Rhoda that put my little blog in the spotlight. It was such honor to be featured on Southernhospitalityblog
April
April should have been about Spring blogging and letting the sun back into our lives. Instead it marked the coldest start of Flea Market season ever. Winter left us really late last year. I hope it will come (it hasn't truly arrived yet) and go quite quickly this year. 
May
 May brought a fun little surprise in my mail box (the real one, not the online kind).
My postal chairs got published in a real, gorgeous and drool-worthy book. Such honor to be mentioned in a publication called Contemporary Upholstery.
June
June was the month we finally felt that there might be a summer for us in the low lands after all. I took it easy with working on projects and the blog and made sure I soaked up some sun. But the Summer Home Tour was a blogging highlight for sure.
July / August
June had just warmed me up enough to know I needed some more sun, and summer in my life. So I decided to take an extended Summer blog break. It did wonders for my teint and my energy levels. 
But of course I couldn't leave well enough alone and made a little cameo appearance as Guest Poster at Today's Creative Blog
My fun and oh so easy summer flower Centerpiece was a summer project even I could manage at my lounging summer speed.
Summer also brought me my US Southern States Vacation
I blogged all about my travels in part 1, 2, 3 and 4. But attending Haven Blog conference, definitely was a blogging highlight. 
September
 hmm I don't know what happened in September. I must have been hard at work at my Oktober projects. 
Oktober
Oktober brought another fun party my way. 
For Lindsay's Knocktober Fest I made one of my favorite craft projects of 2013: my version of an African Juju hat.
November
November meant another time to share something with a new crowd. I was so honored to be asked to guest post at Pretty Handy Girl.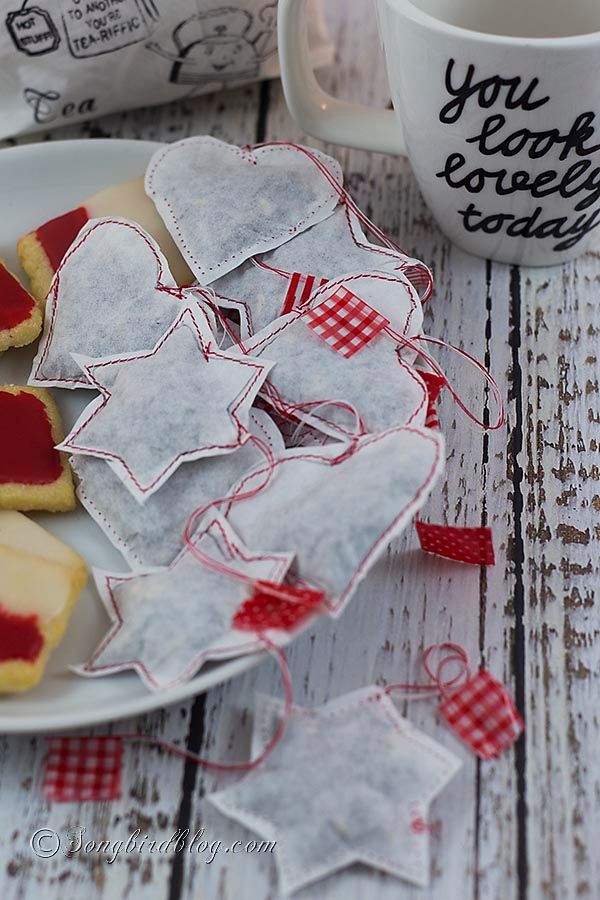 My little homemade tea bags where a fun project to do. 
December
December started in a blur of business and ended in the most relaxed way possible (me in my jammies on the couch totally unplugged). December also brought me my most pinned post ever.
The little jingle bells heart sure were a big hit with the Pinterest crowd. 
And of course an annual highlight on my blog is my 12 days of Christmas series
Funny how you think it was a quiet, uneventful year until you start to look back.
I'll be looking back at some of my favorite DIY, craft and decorating posts next. And then I promise it will be all new fresh material from then on.
CU my friends! It was so nice chatting with you again.