Happy new Year Everybody!!!
May 2013 be your best year yet!!!!!
Yesterday in the final hours of 2012 I looked back at what I had accomplished in the past year and I concluded that I thrive on challenges and need an external push to get my butt into action and start doing stuff.
So what better way than to start off 2013 with some public goal setting….
Here we go! My 2013 Home Goals……
1. Living Room Projects
Our living room is one of the most finished rooms in our home. We bought new furnishings and furniture when we moved into this house 8 years ago. I am still really happy with the choices we made then, except……
Some things don't work as well as I would like, others I have grown tired off and there are some that are crying out for some proper TLC. 
These are the main things I want to tackle here (among countless smaller things).
1a.The bay window curtain situation:
I love our bay windows, but when it comes to figuring out the best way to add curtains, they drive me batty. Biggest complicating factor is the radiator underneath the window. It is the main source of heating and right now the curtains close it in when they are closed, obviously that is not good. I have been searching high and low for a ready-made solution (that I liked and could afford), but have come up empty, so now I have come up with a plan of my own. Let's put it into action in 2013.
1b. Hutch Makeover
There is nothing wrong with our colonial hutch, but I am so tired of the wooden look. We have hardwood floors in here and I feel that the combination with the hutch is too much of a good thing. This hutch stands right across from the door where you enter our living room/ dining room/ family room/ and it is quite overbearing. (oh excuse the blurry picture, it was getting dark already and I didn't have the patience to get out my tripod).
I haven't made up my mind about the color yet. I am leaning towards white (suprise!) or a light grey or a combination of both. I only need to find a stretch of time and some courage and then this baby is getting a new look.
1c. Farmhouse table
Our 'dining room' table really is a work horse. It is used constantly as it is our only table downstairs. It is big and rustic and serves us well. But the stain has yellowed tremendously, there are too many irremovable stains, scratches and dents and it just needs some proper attention. I am hoping to make it a lot more rustic and maybe I'll go two-toned with this one too. Haven't decided yet. 
2. Hall bath room
The smallest room in our house and the loudest too! In our old home we had a red toilet and it worked out there, it was so fun. So I was dead set to recreate that in this house. But the space is so much smaller and the roof so much lower. I hate the red now. I'd also love to find a way to create a bit more space in this room, but there isn't any. The tiles were seventies green originally and we had so many projects going on when we moved in, that all had a higher priority than this bath room, so I just painted over the tiles. The result wasn't half bad, but I'd love to rip them out now and just give this little room a proper makeover.
3. Kitchen
Our kitchen is tiny. Just one wall of cupboards and appliances and one wall with wall shelves and our wall closet/ pantry. It was still pretty new when we moved in, and the previous owners didn't do a half-bad job in choosing this kitchen. But it just isn't me and that black stone back splash  just makes it feel so dark and cave-like sometimes. 
And the wall shelves are in danger of falling down because I have piled way too much on there. So a better storage solution there is in order, but then I'll have to deal with another blasted radiator first (I am telling you this European habit of heating houses with radiators is such a challenge for us decorating gals).
4. Stairways and doors painting
In 2011 ! I repainted the woodwork downstairs from aging yellow to nice bright white. I never finished the rest of the woodwork. And it needs to be painted badly. So high on my 2013 list is painting the staircases and all the remaining doors and window sills. I think that is enough for at least two full time weeks of painting. I won't have two free weeks that I can spent painting, so I will have to unleash my inner project manager and divide this project up in many small projects. So you can expect many pictures of me splattered with white paint, proudly proclaiming another finished door. And I am counting on you all to cheer my on and help me finish this project before it is time again to do the downstairs another time too. 
5. Finally Finish my Bedroom Makeover

In 2010 I started my bedroom makeover project, and I made good progress back then. But what I haven't been showing you (by carefully cropping my pictures), is that it is still a bare bedroom. All the furniture parts are in there but other than that it is bare walls all around.
Problem of course is that I lack ideas of what to do, or I just haven't found my vision that is so clear in my head in real life. But I am determined to attack this situation this year. I want a finished bedroom before I grow tired of this one.  



There you have it. My top 5 Home Goals for 2013. Of course they go accompanied by various other life goals as: exercise more, eat better, spent more time with family and friends, spent less money and be a kind and generous person. But those goals are the same every year, and I am sure we more or less share them all. 
I also got quite a few plans as a blogger than I am still plotting and planning and I'll let you in on them as soon as I am confident that I can make them happen. 
So for 2013 let's just all keep on keeping on, working on our homes one project at a time and cheer each other on along the way. I'll promise to be there cheering for you, I hope you will be with me spurring me on here too.
Some of my dear friends are writing their 2013 goals posts too. 
Here is an awesome post by Becky from Infarrantly Creative
And a post by Roeshel from DIY Show Off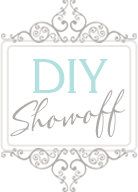 Feel Free to leave a link to your 2013 Goal post in the comments. Let's do this together people! I so believe that we are stronger, unbeatable, and a force to reckon with if we just hold each other's hands and just do it.