Looking for easy ideas for decorating your home for spring? Got an hour or two this weekend? Here are some of my favorite spring decorating projects that use simple things, take no time at all, and are most definitely fun and pretty.
Spring is finally here, and it's time to give our homes a fresh and vibrant makeover!
But if you are like I and the thought of wasting this beautiful spring weather on redecorating feels wrong. If you are getting tired of the idea alone of a complete decor overhaul, then don't worry – I've got you covered.
With these 17 easy spring decorating ideas, you can transform your room in no time, without breaking the bank. From simple DIY decorating ideas to budget-friendly and fun craft projects, these ideas are selected to add a pop of color and a touch of spring to any room.
So, whether you consider yourself among the more seasoned home decorators or more of a newbie, or anything in between, get ready to be inspired and create a space that's as beautiful as it is effortless.
Spring into Style: 17 Simple and Stunning Decorating Ideas to Refresh Your Home this Weekend!
Yep, it is true…
It is definitely so…
The calendar says so…
And so does the weather forecast…
Spring has arrived! She is a bit shy and hides her pretty self behind the clouds from time to time, but nonetheless, the birds are chirping, nests are being built, blossoms are blooming and the sun is gaining ground.
Ah my favorite time of year has arrived. Time to open up the windows, blow the cobwebs out, and contemplate a spring cleaning spree but drink tea outside in the garden instead.
Spring has sprung and so that time-old itch to change up the decor and do some seasonal decorating is back.
If you know the feeling here are some wonderful DIY spring home decor ideas for your pleasure and inspiration.
1. Tulip Spring mantel
This is such an easy but beautiful idea for how to decorate your mantel for spring. Gather up some clear glass bottles, and add one or two tulips to each of them. Line them all up in a row. Place a large mirror behind it all, and call it a day!
See here how this spring mantel looks from different angles.
2. Twig Candle Holder
If you are doing yard work in spring, this is the perfect project to use some of the waste nature has left behind. This time of year my garden is full of fallen twigs and branches from the winter's storms. I'll also be doing some clipping and pruning on my bigger bushes.
All those twigs can be used to make these pretty, rustic candle holders that look perfect on a side table in your spring living room decor.
3. DIY Leaf Wreath
All you need for this pretty wreath is a wire ring and some freshly cut green leaves.
I used laurel leaves, you might have fresh leaves from a magnolia tree. Boxwood would work too. Any kind of fresh, green leaves that don't dry out too quickly would work.
Find this DIY leaf wreath here and discover where I scavenged my metal ring from…
4. Hanging Glass Bottle Vases
Oh, this little spring flower decor is so easy and so much fun.
Attach a ring to some small bottles, tie them all to a string, and hang your flower decor on a wall or over a door.
Learn how to make hanging glass flower vases in this post.
5. Easter Basket Coffee Table Arrangement
This easter basket centerpiece is so easy to make. It uses everyday elements and no intricate design or hard-to-do arranging. This simple combination of easter eggs in bird nests, painted bunnies, and some spring bulbs and greenery come together in a super simple centerpiece for your coffee table.
I show you how to make a centerpiece like this in minutes and when you don't have all the exact same items I give you all kinds of ideas for alternatives that will give you the same effect.
6. Rainbow Colored Glass Jars
In the mood for a fun craft that is also a little messy? These rainbow-colored glass jars are so much fun to make.
Gather up some mason jars, get food coloring and ModPodge together, and make some pretty jars in your favorite colors that match your home decor for spring. Find out all the instructions on how to paint and tint glass jars in this post.
7. Super Easy Numbered Pots DIY
Your future self will thank you if you do this little project. Years ago I painted some simple terracotta pots white and added numbers. Those numbered little pots went all over the house and came out nearly every season one way or another. They were so easy and fun to decorate with. Go see all the ways I decorate with numbers and letters and how to make these super cute numbered pots.
8. DIY Pom Pom Blanket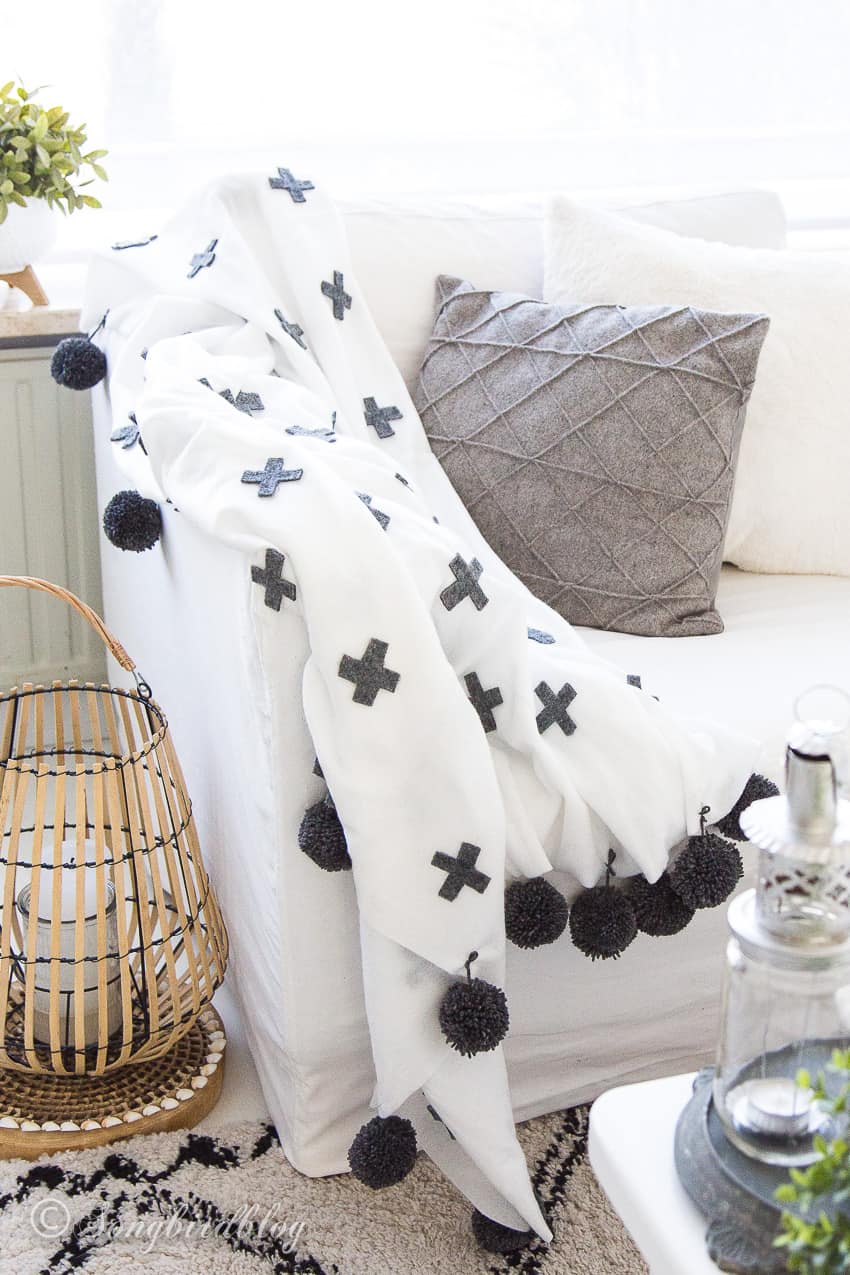 For those days and nights when spring gets a bit chilly…
Make a light throw blanket with pom poms and felt crosses to drape over your sofa. The base is a simple fleece blanket that is nothing more than a piece of cut fabric. This DIY pom pom fleece blanket is not only super comfortable but also a dream to use as a decorating accessory.
9. Make a Chicken Wire Cloche
Give your simple spring bulbs some extra pizzazz by placing them under a homemade cloche. Everything looks better, especially those sweet daffodils, when it is shown off underneath a cloche. And I love the opposition of the rustic wire and the sweet flowers.
This DIY chicken wire cloche is so much easier to make than you might think.
10. Watering Can Tulip Arrangement
If you like Farmhouse style spring decor, you will love this quick and easy flowering arranging idea. A simple galvanized watering can is used as a vase for some vibrant red tulips.
I think this particular watering can is from Ikea but several years ago. You can use any kind of watering can for this idea. If the opening is too wide simply place a smaller vase inside or use some floral foam or a rolled-up bunch of chicken wire to hold the stems in place.
11. Spring Wreath for Front Door
How about an idea for how to decorate your front door for this new season?
Make this super easy spring wreath in minutes. It's a little bit real and a little bit faux and it only takes so little time to make a wreath like this.
12. Repurposed Soda Cans Vases
How about a little reuse, recycle and repurpose spring decorating idea!
Next time you are at the grocery store keep an extra lookout for pretty packaging and repurpose that in your spring decor, and grab a bouquet of cut flowers while you are at it.
These colorful soda cans turned vases with cherry blossoms are the perfect container for some pretty spring flowers.
13. Pretty Painted Planter Pots
Nothing makes your home feel more like spring than bringing in some pretty colorful flowers. These cheerful little pansies got some extra flair by pairing them with vibrantly painted terracotta pots. Don't you just love all the spring colors on these sweet planters.
14 Unique Tulip Arrangement
How fun is this original and unique way of arranging tulips !? Tulips are so much fun and they lend themselves to some pretty outrageous floral arranging.
I think they look so pretty 'stuffed' in a vase like this. And I think the two tulips that are trying to escape by growing out of the vase are just hilarious.
15. Decorate your Window Sill for Spring
When decorating your living room for spring, don't forget about your window sills. Sometimes those are harder to decorate but giving them some extra attention can have a big impact on a room.
I was lucky to have this brick makers crate. It is long and narrow and perfect for some pretty window sill spring decor. Read all about how to create this window sill spring decor here.
16. Unexpected Spring Decor – Bring in the Disco Ball
One of my favorite all-time spring mantels was the one where I brought out the disco ball.
I paired the glitter ball with delicate apple blossoms and a bit of coastal flair. It came together beautifully. I still love this spring mantel with a touch of disco so much.
17. Blue and White China and Flowering Bulbs
The fresh colors of blue and white go so well together with the freshness of spring bulbs.
Use a variety of different everyday china bowls and plant some spring bulbs in them. Cover the soil with some moss and you will have the prettiest little spring decor. Check out how I created this blue and white spring bulbs planter decor here.
I hope you liked my collection of spring decor ideas that you can do this weekend to make your home feel like spring.
I hope you feel inspired.
I hope your spring decor is pretty and makes you happy.
I am for sure happy that you are here and that spring is here.
Don't forget to save this post to your favorite board on Pinterest so you can find it later!