A ladder has many uses in the home. In this post, we will show how to decorate a rustic old wooden ladder in three very different styles. How to use an old ladder as a display shelf for showing off your pretty decorations.
Did you find an old ladder in the barn? Fell in love with a vintage wooden ladder for grabs in a yard sale? Well, I did, and then I had to figure out what to do with the thing. I decided to turn my old ladder into a beautiful rustic display for some decorations. 
I brought a beauty of an old, tattered ladder home from the workshop of my inlaws determined to use it in my home decor.
Must say, that I did get some frowns and looks and big sighs from my roommate. But he knows me well enough not to say anything…
I shlepped that ladder up the stairs to my bedroom and decided to have some fun with it. I got out a whole lot of my decorations and started playing.
I ended up decorating my ladder in three different styles. 
Please help me make up my mind which one is best!
It is always fun to try and decide what my personal decorating style is. It can vary so much. I like a beach cottage look, but I am also drawn to a rustic junk-style look. And the romantic in me still loves the cottage style.
Maybe I should describe this decorating style as Industrial Coastal Cottage. Because that sums it up quite nicely.
Industrial style home decor means using rustic and raw materials. It means loving old wood and rusty nails. It involves decorating with natural materials like twigs and branches. The industrial style has a robust look, with a bit of a masculine vibe.
Coastal Style Decor is all about bringing the beach into home decorating. It resonates with the neutral colors of the beach sand, the blues of the sky and sea, and the pop of colors from ice cream and flowers. In a nautical coastal style, there is a preference for natural materials like rattan, straw, and sisal, patterns are polka dots and stripes and chippy painted wood is a must-have.
Cottage Style Decor involves using vintage items with a shabby chic look. In the cottage style there is a special place for fabrics like linen and cotton and a preference for colors like white, red, blue and green. This style is romantic and feminine.
In industrial coastal cottage style, these three styles are merged into a happy marriage. There is the excitement and drama of mixing masculine and femine, rustic and romantic, neutral and colorful. There is also the harmony of old, weathered materials, natural elements, basic colors and classic patterns.
Let me show you what I mean by styling my rustic old wooden ladder in each of these styles.
Decorating an Old Wooden Ladder in Industrial Style
The first look for my vintage ladder is the industrial look. I used natural materials, vintage props like old tools and added a handmade candle holder.
The three preferred materials for this style are very obvious: I chose: natural branches, wooden tools, and metal details.
It felt a bit strange to put woodworking tools in my bedroom, but once I got over the thought that I was crazy, I really liked the look of it. The tools show the signs of a life of labor, like they should.
The rusty candleholder was handmade a really long time ago. The twig wreath DIY project is still relatively new here, it received a lot of upgrades and transformations later.
So what do you think? A true INDUSTRIAL styled ladder?
How to Decorate a Ladder in a Coastal Style
For this coastal decorating of my ladder, I incorporated true beach cottage elements like seashells, a sea star, and a mother-of-pearl tray. I used books in the colors neutral and blue and I added a basket with pots planted in galvanized containers. A couple of pillows with nautical stripes and polka dots add a decorative touch.
The mostly neutral colors, of this coastal style, work well against the rugged and rustic look of the ladder. One can easily imagine this ladder working hard in a seashore town and being weathered by sea winds and gushes of saltwater.
Returning elements in decorating are decorating with books, using candles, and adding flower arrangements. My industrial coastal cottage ladder is definitely not an exception to that rule.
If you like my Ladder decorating ideas
I have made a collection of 41 unique ways to decorate with a ladder. Go check it out!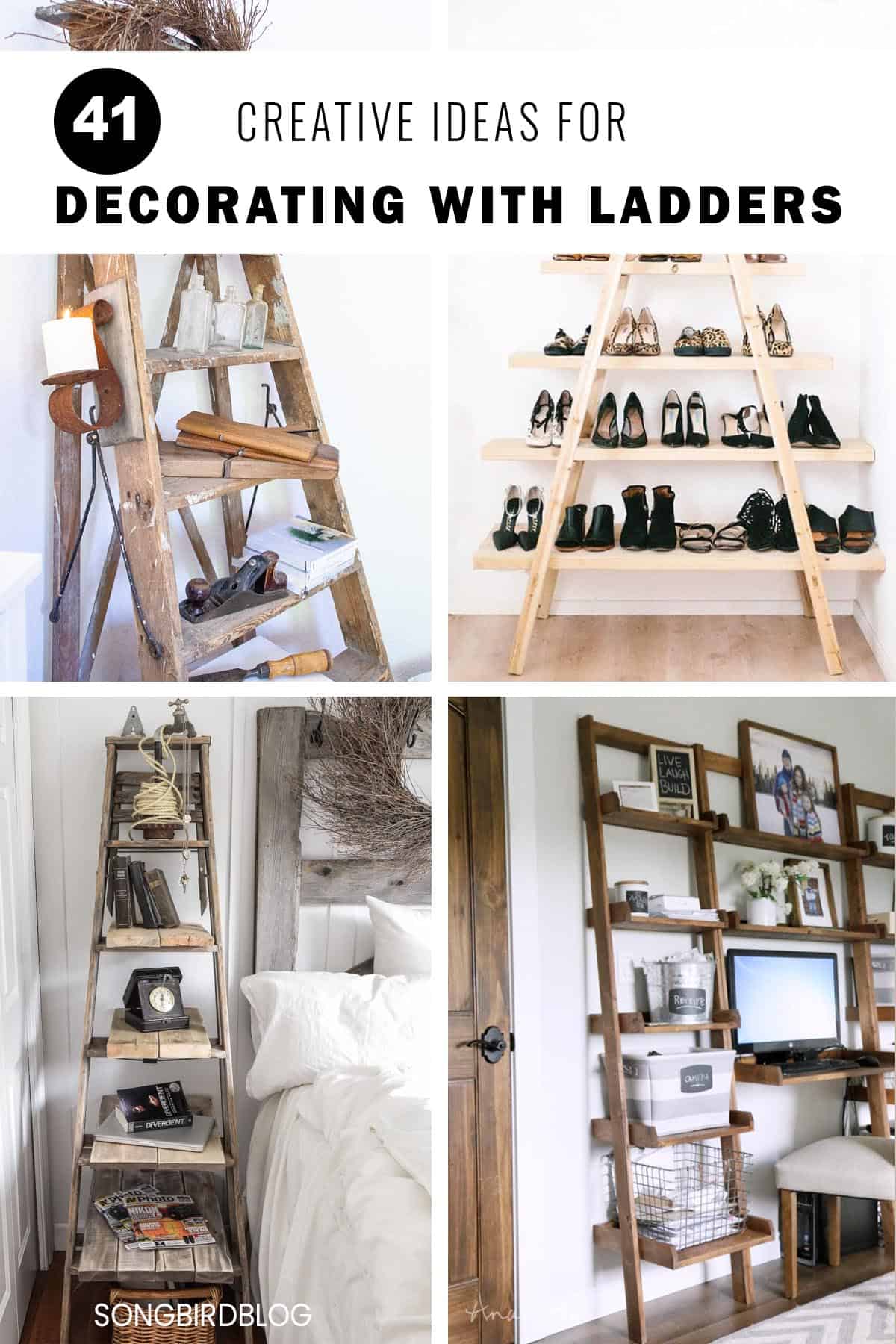 How to Decorate a Cottage Style Ladder
Decorating my ladder in cottage style turned out to be the biggest challenge. The soft, romantic look that is so typical of cottage style seemed to clash with the rugged, timeworn look of my ladder.
But I made it work…
For the cottage look, I added vintage dishware, soft fabric hearts, and a few blooming flowers. For my cottage ladder, I chose the color scheme of red and white, because that is a classic color combination that always works.
I guess that's why you will find a sauce bowl in my bedroom vignette here…
For special interest I used three little DIY numbered pots with some (almost) flowering daisies. I love how crisp the white pots look against the old wood. Ladders work well with flowers. I have used an old painted step ladder as a plant stand in my garden, and it looked gorgeous.
I also really love the look of a little glass candle holder on each rung of the ladder. That is a decorating idea I will surely use again.
Ok, now I want your opinion! Which of my ladder styles do you think turned out the best. Which is your favorite?
I am not going to tell you which is my favorite. Because I can't, I really can't. It's like choosing which of my two cats is my favorite! I love them all equally.
And tell me do you dig the Industrial Coastal Cottage thing…..?