Check out these budget-friendly and unique DIY mantel ideas for spring. These are the most beautiful ideas for spring decorating your fireplace.
Wondering how do you decorate a spring mantel?
Looking for Easter mantel decorating ideas?
I have for you:
31 Homemade Spring Decorations for your mantel, often with Step by Step Instructions on how you can create them yourself. There are quick and easy ideas and there are ideas that are more challenging. Featured are spring mantels with garlands and banners, you'll find easter wreath ideas and mantels in different styles like vintage, farmhouse or rustic. With this collection of DIY Spring & Easter decor, you no longer have to wonder how to decorate your home for the Spring season. I am sure you will find plenty of inspiring ideas that are perfect Spring craft ideas for adults and children.
Decorate your mantel in 2022 with these fresh and new ideas! Enjoy scrolling through all 31 fireplace mantle ideas!
Spring Mantel Ideas Featuring a Wreath
The focal point on these beautiful spring mantels is a beautiful wreath. With a wreath, the rest of your mantel decor comes easy. Flank your wreath with a somewhat symmetrical arrangement of candle holders, vases, or frames. With a show-stopping center like a spring wreath, you can keep the rest of the mantel decor simple and light.
Winter & spring mantel decor with a homemade twig wreath
A twig wreath decorated in white and paired with spring flowers is the perfect transition from winter to springtime decor.
Spring Hoop Wreath with DIY Instructions
These hoola hoop wreaths are so fun and surprisingly easy to make. I like the modern vibe that a hoop wreath gives to this fresh spring mantel decor.
Tulip wreath Spring mantel (with DIY instructions)
How gorgeous is this tulip wreath? It is made from faux tulips so it will last a really long time and can be used over and over again. Layering the tulip wreath on an old window frame adds depth and a vintage style to this mantel. The wreath is a true focal point on this cottage spring mantel.
Vintage paper wreath Spring mantel
Instructions on how to make a vintage paper wreath in different styles can be found on my paper craft inspiration board. I love this pretty mantel in grey and white which showcases a stunning paper wreath as an eye-catcher.
Can you imagine your Spring mantel with a giant wagon wheel wreath? Good, me too! This particular wreath is hanging on a front door, but wow imagine that original wreath as a focus of attention on a spring mantel. It would be an instant wow factor for any living room. The use of faux flowers and fake boxwood makes this a wreath that will last a long time indoors.
Vintage Style Spring Mantel Ideas
Bring new and old together when you use vintage items in the new season's decor. The freshness of spring pairs well with the rustic and vintage of old items. Look at how beautiful these vintage-inspired spring mantels are. I see old frames, antique books, vintage pitchers used as vases, colorful mason jars, and a whole collection of vintage items on these mantels.
The muted colors on this spring mantel are just perfect and the layered vintage mirrors bring in lots of extra light in this spring season that for many of us is still a rather dark start of the year. 
Vintage tea cups mantel decor idea
What a fun and whimsical spring mantel with floating teacups and soft fresh blooms. The vintage details are soft and romantic here and pair well with the pink flowers and spring bulbs. I think the little nests made from moss with Easter eggs are simply perfection. Little antique book stacks are used to add height and depth to this mantel.
Vintage Spring mantel with ball jars
Vintage blue ball jars fit in with every season. Here they are shining on a fireplace mantel. One mason jar might look a little lost, but a row of vintage ball jars is just perfect for it makes a statement. The colors on truly vintage jars are all a bit different, making this a lovely collection of aqua-tinted glass.
A rustic, old frame and some worn metal pitchers are the perfect backgrounds for this spring mantel. A rustic decorating style is almost always also a vintage decor style because let's face it, nothing beats genuine scuffs and marks from years of wear and tear. The fresh flowers and the use of a window frame add lightness and freshness to the heavier design of this rustic fireplace.
Vintage Spring fireplace decor idea
Old books and boxes, and vintage-looking prints come together in this lovely spring mantel. The wooden candlesticks and the old wood beam of the fireplace are rough and rustic. The soft muted colors of the frame and box make a great match and add a touch of femininity to this strong rustic mantel decor.
Additional Spring Decorating Ideas you will Love
Simple & Easy Spring Mantel Decor
You don't want your spring decorating to be difficult and fussy.  Don't worry you don't need lots of time, money, or skills to create a festive home for the season. Just take a look at these examples of quick and easy spring mantel decor ideas that I have collected for you. These simple mantel ideas are all easy, can be pulled together in less than 30 minutes, only use everyday items but still throw a major punch. These simple mantel decorations are uncomplicated to DIY but will still make your mantel the envy of the neighborhood.
Cherry blossoms and a disco ball Spring mantel
Who would have thought that you could combine blossom flowers, coral, and disco balls in a spring mantel? Well, go see, how it works. This spring mantel with a bit of coastal style demonstrates that you can use lots of different decorations that you already own and love. Just pair them in a way that the colors match, the shapes supplement each other and there is variation in texture and height and you can make anything work.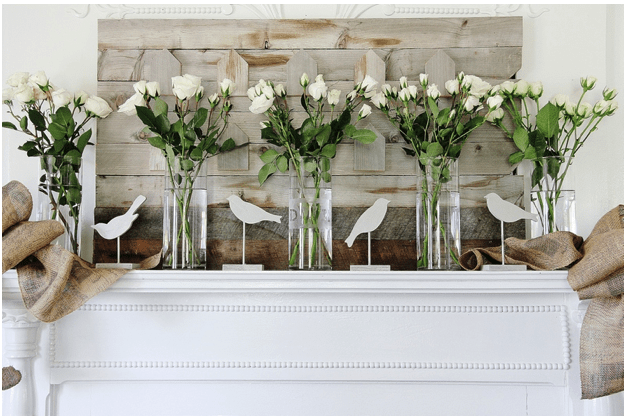 A lineup of vases with flowers and some fun birds on a stick is easy to do. It's the burlap bows on the corner that add the wow factor. If you don't know how to make these burlap bows, don't worry she gives full instructions on how to make these burlap bows in her post. Just follow the link above for more details on this fun spring mantel.
Light and Airy Spring Mantel Decor
Sometimes a spring mantel only needs the humblest of decorations. This mantel is a true beauty in its simplicity. The choice of colors, materials, and textures gives this mantel both elegance and flair. This is a spring mantel in a bedroom and it is just perfect for that.
Tulips in Vintage Bottles Spring Mantel
Last-minute spring decorating at its best: line up clear glass bottles and add single tulips to them. A guarantee for a quick & easy but beautiful spring mantel. A single bouquet of spring flowers can make a big impact this way. Adding a mirror behind the flowers just doubles the impression these simple flowers make.
Driftwood Spring Mantel
When you have a beautiful candle holder made from driftwood, your spring mantel decor comes easy. Even if you don't have a driftwood candle holder, you can create this idea by using a large branch of a rustic piece of wood and layering small votive candles around it.
Laid back Spring mantel with a 'how to style a mantel' guide.
This mantel is subtle in its nod to spring. The fresh greens of the ferns and of course the pair of bunnies make this a lovely spring fireplace. The two giant prints of ferns are less subtle but instead beautiful focal points of this mantel. Yvonne shows you exactly how you pull off this look yourself.
Spring Mantels Featuring a Garland or Banner
Spring garlands and banners come in all shapes and sizes, but they all add a really nice touch to your spring decor. A banner is an easy DIY and you can make a spring garland or banner for every decorating style. I am sure you will find some inspiration for creating your own spring garland in the collection below.
Spring Flower Garland Fireplace Display
This luscious spring garland with florals and greens is absolutely stunning. The galvanized watering bucket that is used as a flower container adds a touch of whimsey. A garland made from flowers and greenery like this one is perfect for you if you love to use flowers in your decor.
A super simple spring banner combined with vintage kitchen items makes for a lovely spring mantel in white. I adore that row of vintage pitchers and the wire baskets with Easter eggs in muted color are just perfect.
Double Spring Easter garland mantel
A combination of two garlands that both evoke a lovely sense of spring. The garland made from Easter eggs in robin's blue truly gives a beautiful pop of color to this design. The burlap bunting with the bunnies looks so nice. I especially love the combination of the rustic burlap fabric with the sweet lace ribbons.
Farmhouse Spring Mantel with Paper Doily Banner
It doesn't get easier than this lovely spring banner made from paper doilies. This mantel would have been very pretty without the paper garland, but with it, it is just perfection. What a fun little DIY project to whip up for your mantel. Those moss balls in the copper bowl add just the perfect touch of rustic to this farmhouse mantel.
Spring Mantel Garland with Cascading Flowers
Look at how these flowers are drooping from this spring mantel. What a gorgeous idea. This mantel idea is perfect as an everyday mantel decor that you move through the seasons. Add different colored flowers as the seasons change and place a new print in the frame for the season's greeting.
Decorating Ideas for your Easter Mantel
Spring and Easter decor are best buddies. Why not combine your spring decor with some Easter decorations. Choose your Easter decor to match your color scheme and style preferences and you have the perfect marriage between Easter and spring decorating. This collection of DIY Easter decorations is a perfect example of the combination of spring and Easter decor. They can fit every style and will look good on every spring mantel.
This colorful Easter egg garland is so much fun and you can customize it to fit with the color scheme of your home perfectly. I am sure this is a great Easter craft idea to do with your kids or grandkids. What a lovely pop of color this Easter egg decor idea.
Nothing says Easter than happy bunnies frolicking in the green. The bunnies on this mantel seem to hide in the green garland. The bunting wishing you a Happy Easter features a cute little bunny too.
A fun Easter wood sign makes a perfect focal point for your spring mantel. The color yellow is definitely a color that evokes the spring season. The pallet wood decoration on this Easter mantel is a DIY project that can easily be mastered by anyone. All it takes to make this are paint and stencils and a whole lot of patience while stenciling.
We have already seen quite a few examples of spring mantels in muted colors. This Easter mantel however is a feast for the eye. All the pastel colors used in the wreath, the bunting, the flowers, and the scattered Easter eggs make for a very cheerful and fun Easter mantel.
Yellow and blue Easter mantel decor
Yellow and blue are a perfect color scheme for spring decor. The use of a pretty bunny and the scattered decorative Easter eggs tie it into Easter wonderfully. I also love that the big mirror in the center has a design that seems to echo the shape of the Easter eggs. This is elegant mantel decor is just lovely.

If you like these Spring mantel ideas then don't forget to pin them to your favorite decorating board on Pinterest.
Have FUN Decorating your Spring Mantel & Creating Easter Decor
What do your get when you combine your choice of bunnies, garlands, wreaths, easter eggs, buntings, birdcages, colorful flowers like tulips, Easter eggs, birdhouses, fresh bulbs, handmade signs, and lanterns?
Beautiful spring decor!
I hope I have inspired you to add some spring decor to your home, and that I have convinced you that you don't need special talent to create a beautiful spring or Easter mantel.
I'd love to hear if you have tried to copy any of these spring mantel ideas in your own home!