Spring mantel decorating ideas
If you are looking for ideas on how to decorate your home for Spring, then you have come to the right place! Below are 30+ Homemade Spring Decorations often with Step by Step Instructions on how you can create them yourself. There are quick and easy ideas and there are ideas that are more challenging. With this collection of DIY Spring & Easter decor you no longer have to wonder how to decorate your home for the Spring season. I am sure you will find plenty of inspiring ideas that are perfect Spring craft ideas for adults and children. This post is organized into four sections for your convenience. If you are only interested in one section, feel free to click on the link that interests you to be taken directly to that section. Otherwise, please enjoy scrolling through all 30+ ideas!
Spring mantel decorating with a wreaths
Quick & Easy Spring Mantel Decor
Spring mantel garlands and banners

Spring Mantels with a Wreath Focal Point
Are you wondering how to decorate your mantel for Spring! I thought I'd share some pictures from my Spring mantel and shelf decorating ideas file to inspire you. The focal point of these mantels is a beautiful wreath. With a wreath the rest of your mantel decor comes easy. Enjoy all these Spring mantels with wreaths.
Winter & Spring mantel decor with homemade twig wreath
A twig wreath decorated in white and paired with Spring flowers is the perfect transition from winter to Spring decor.
Spring hoop Wreath with DIY instructions
These hoola hoop wreaths are so fun and surprisingly easy to make.
Tulip wreath Spring mantel (with DIY instructions)
How gorgeous is this tulip wreath. It is a true focal point for your Spring mantel.
Vintage paper wreath Spring mantel
Instructions on how to make a vintage paper wreath are easy to find. I love this Spring mantel in grey and white with the paper wreath as eye-catcher.
Can you imagine your Spring mantel with a giant wagon wheel wreath? Good, me too!
Vintage Spring Mantel Decorating Ideas
Bring new and old together when you use vintage items in the new season's decor. The freshness of Spring pairs well with the rustic and vintage of old items. Look at how beautiful these vintage inspired Spring mantels are.
The muted colors on this Spring mantel are just perfect and the vintage mirrors bring in lots of extra light in this still rather dark start of the year.
Vintage tea cups mantel decor idea
What a fun and whimsical Spring mantel with floating teacups and soft pink flowers.
Vintage Spring mantel with ball jars
Vintage blue ball jars fit in with every season. Here they are shining on a Spring mantel.
A rustic, old frame and some worn metal pitchers are the perfect background for this Spring mantel.
Vintage Spring fireplace decor idea
Old books and boxes, and vintage looking prints come together in this lovely Spring mantel.
Quick & Easy Spring Mantel Decor
You don't want your Spring decorating to be difficult and fussy. Don't worry you don't need lots of time, money or skills to create a festive home for the season. Just take a look at quick and easy Spring mantel decor ideas that I have put together for you. They are all easily put together and add lots of cheer to your home. Have fun Spring decorating!
Cherry blossoms and a disco ball Spring mantel
Who would have thought that you could combine blossom flowers, coral and disco balls in a Spring mantel? Well go see, how it works.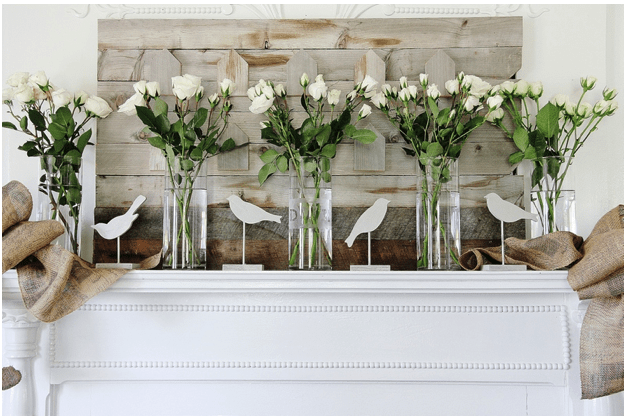 A line up of vases with flowers and some fun birds on a stick is easy to do. It's the burlap bows on the corner that add the wow factor.
Light and Airy Spring Mantel Decor
Sometimes a Spring mantel only needs the humblest of decorations. This mantel is a true beauty in its simplicity.
Tulips in vintage bottles Spring mantel
Last minute Spring decorating at its best: line up clear glass bottles and add single tulips to them. A guarantee for a quick & easy but beautiful Spring mantel.
When you have a beautiful candle holder made from driftwood, your Spring mantel decor comes easy.
Spring mantels featuring a garland or banner
Spring garlands and banners come in all shapes and sizes, but they all add a really nice touch to your Spring decor. A banner is an easy DIY and you can make a Spring garland or banner for every decorating style. I am sure you will find some inspiration for creating your own Spring garland in the collection below.
Spring flower garland fireplace display
Luscious Spring garland with flowers and greens. And look at that fun touch with the galvanized watering bucket.
A super simple Spring banner combined with vintage kitchen items makes for a lovely Spring mantel in white.
Double Spring Easter garland mantel
A combination of two garlands that both evoke a lovely sense of Spring.
Farmhouse Spring mantel with paper doily banner
It doesn't get easier than this lovely Spring banner made from paper doilies.
Spring mantel garland with cascading flowers
Look at how these flowers are drooping from this Spring mantel. What a gorgeous idea.
Easter decorating ideas for your mantel
Spring and Easter are best buddies. Why not combine your Spring decor with some Easter decorations. Please enjoy this collection of DIY Easter decorations that fit every style and look good on every Spring mantel.
This Easter egg garland is so much fun and you can customize it to fit with the color scheme of your home perfectly.
Bunnies and Easter belong together. I love how the bunnies seem to hide in the green garland on this mantel.
A fun Easter wood sign makes a perfect focal point for your Spring mantel.
An egg wreath and a Spring banner. This mantel combines Spring and Easter decorating perfectly.
Yellow and blue Easter mantel decor
Yellow and blue are a perfect color scheme for Spring decor. And the bunny and the decorative eggs tie it in to Easter wonderfully.
More Spring fireplace and mantel decorating ideas