Good morning beautiful ladies, don't you all look spiffy on this dreary Saturday morning. Well I say dreary but that is just the weather, I am as happy and chipper as can be. My Spring break has begun. My whole city will start to celebrate Carnaval today, but I will celebrate with my miter saw and paint brush, Yehow!
I have been looking forward to this week of since January 1. And I am so going to make the best of it.
So I will be busy Gitt'n 'Er Done a lot of things. In true Songbird fashion I made a list. Got a have a list, people, I don't function without them.
So this is my list of things I want to do this week:
1. Continuing the grand bedroom makeover
This is still as far as I have come. And I really want to get going with this project, pronto. So stay tuned for some big and lots of small bedroom projects.
2. Finish photographing my first Etsy listings
Yeah I have actually started on photographing the first items I want to put in my Etsy shop. I have some more to do and than the shop will be open! Yes, yes and double yes!!!
3. Do my homework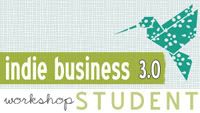 I have signed up for the Indie Business course. One of my favorite little Indy shop owners Lisa Leonard is a teacher in that workshop (oh and by coincidence I have a Lisa Leonard giveaway going on over at my sponsorblog!!). Since it is taking me over a year to get the courage to get my Etsy shop up and running I thought a bit of help, coaching and encouragement of some very wise women and a warm community might do the trick. The course has already begun and I was rather late in signing up, so I have some catching up to do. But the first assignment had me cutting paper and glueing and inking, so this course is right up my alley!
4. Eat Chocolate
Of course Spring break isn't all about working playing, there is the eating too. Eating of chocolate. Just looking at this piece of brownie pie makes me yearn for another piece. Yummy.
5. Playing with wood
I already mentioned my miter saw. That baby has been calling my name for weeks now. I can't wait to fire it up again and doing something (hopefully) wonderful with wood.
6. Paint something white

The paint may or may not be applied to the wood of number five. The jury is still out on that, but there will be a lot of waving of the paintbrush going on. Heck painting something white is the fastest way I know off how to give myself a French manicure. So white paint it will be.
7. Reading a book
I used to be such an avid reader. Going through one heavy crime novel a weekend at least. Now I can't even remember the last time I lost myself in a book. So I am going to carve out at least one day to start reading the first of the three Millennium novels. I think I am the only one who hasn't read Larsson's bestsellers and I really want to read the books first and then rent the DVD's.
8. Do some baking
Reading curled up in my comfy chair with a hot cup of tea and freshly baked cookies. Bring it on! Of course that will mean baking some cookies first. But I really like pottering around in my newly organized kitchen. My baking supplies got a new place of honor, and I am all to keen to release them from it from time to time. What shall it be, another attempt at baking chocolate chip cookies? Or shall I go wild and try something entirely new? I'll keep you informed.
9. Drinking Jillz and fantasizing about hot guys standing under waterfalls
If you have no idea where this fantasy is coming from, you might have to refer back to an earlier post. I showed you those hot men in there
. Jillz is still my favorite drink. And although it really should be drunk on a hot smoldering night underneath our new porch, I will settle for drinking it underneath my warm blanket by candle light. Taste just as good.
10. Get sew crazy
It is high time I took that cover off my sewing machine and fire it up again. I have lots of different projects in my head that involve fabric and thread and that will need some serious sewing. Now that I will have time to take my time, and don't have to cram my sewing in in between 100 other shores, I am actually looking forward to it again.
So enough to do. Do you have Spring break? And do you have plans to get some things started and/or finished?
And got any tips on how I can make sure I get this list done, and don't linger too long in number 1, with number 7 in my hand, and number 8 and 9 on my bedside table while I guiltily do my best to forget about number 2,3,5,6 and 10? Just saying, it might happen that way, ladies, it just might happen…