This DIY fleece blanket with pom poms is such a fun craft and you'll be surprised how easy it is to make. I added felt crosses to make it into a truly original throw blanket, perfect for accessorizing your home or for gift-giving.

Is there so such a thing as too many throw blankets?
I don't think so!
There is always room for another warm blanket to snuggle under on cold winter days, there is always an empty spot on the food of a bed that could be decorated with a cozy blanket, and there is always an empty chair that would look better with a carefully draped throw.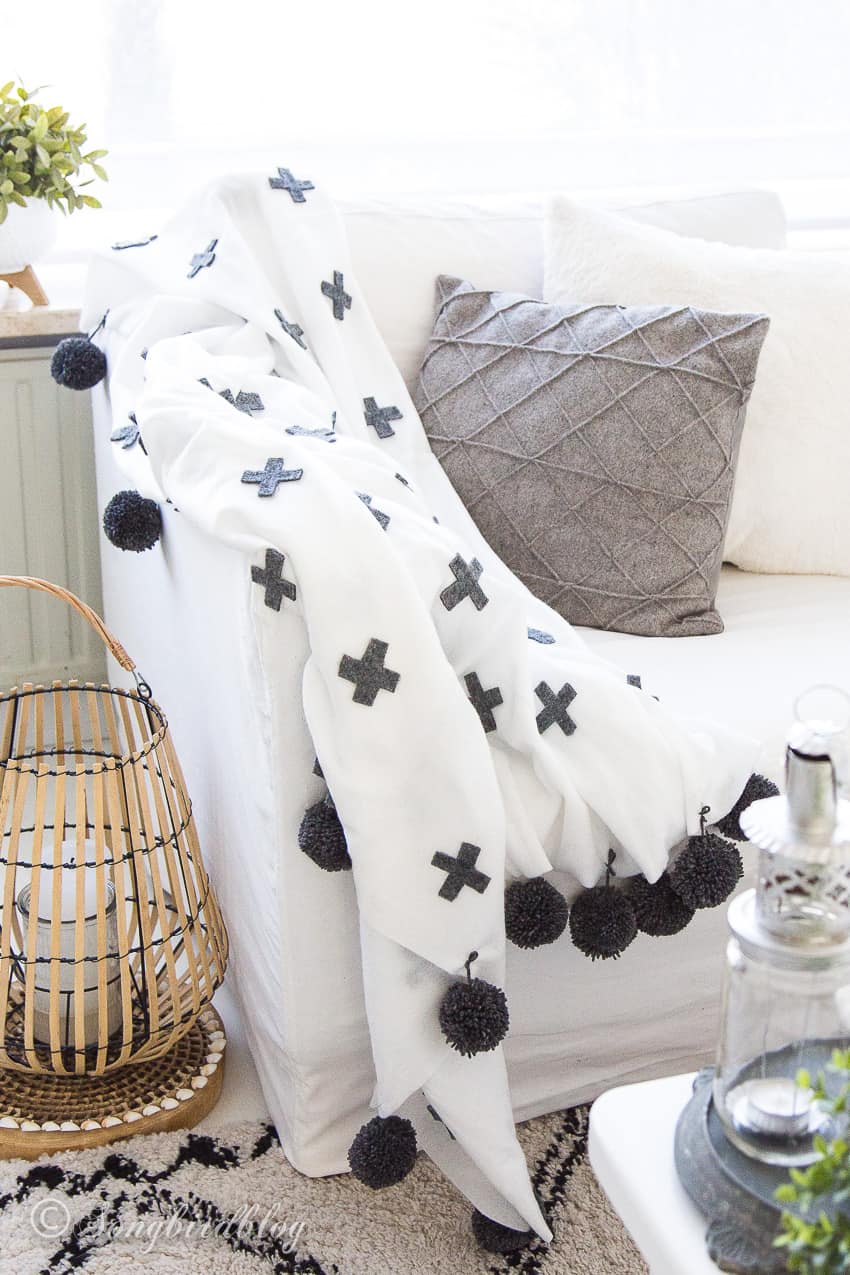 How to Make a Pretty Fleece Blanket with Pom Poms

Today I am going to add a little warmth to your life.
Yep, because no matter the season there is always a reason for hot tea, chocolate, and a nice cozy throw blanket.
Ok. In the midst of summer heat you can replace the hot tea with a cool drink, but fun, decorative blankets always come in handy.
I present to you a DIY pom pom blanket that is unique, fun, quite a statement piece, and not difficult to make at all. Granted it will take more than one hour of crafting but nothing is complicated and all can be done while watching your favorite TV show with one eye. I you can safely handle a pair of scissors and a glue gun, you have all the skills you need.
This post contains some affiliate links for your convenience (which means if you make a purchase after clicking a link I will earn a small commission but it won't cost you a penny more)! Read my full disclosure policy.
More Heart Warming Winter Craft Ideas
This post is inspired by the SUSTAINABLE CRAFT CHALLENGE BLOG HOP where we share winter crafts to warm our hearts and home.
If you are looking for some fun ideas for winter crafts than come check out this collection of 41 wonderful DIY winter project ideas.
Materials to Make a DIY Fleece Blanket with Pom Poms
For this DIY pom pom throw blanket, I only needed a few materials and I am sure you'll have most on hand anyway.
A simple fleece blanket in a solid color. Nothing fancy, even just a piece of fleece fabric in the right size would work.
About two to three balls of yarn. Choose a fluffy wool yarn so your pom poms turn out nice and full.
Optional and very handy is a pom pom maker.
Three to four roles of felt in a matching color to the yarn. Of course, enough pieces of felt sheets would work too.
Sharp sewing scissors to cut the yarn and the felt.
A glue gun with enough glue sticks.
How to Make a Sofa Throw with Pom Poms and Felt Crosses
Making this blanket is quite relaxing and zen-like. Although I must admit that it was a bit time consuming. Making about twenty pom poms takes more than a few minutes but rolling that yarn and rolling more of that yarn and then rolling even more of that yarn does almost feel meditative so I didn't mind.
There are no special skills necessary though. This is really a super easy craft to do, some time and patience are all that is needed.
Step 1. Make Pom Poms
The first step is making the pom poms. You'll have to make enough pom poms to space them around all four edges of the fabric. For my fleece blanket, I made about 50 pom poms in total.
I used an old pom pom maker that I picked up a the thrift store long ago. I actually had to search Youtube videos to figure out how to use it. Nowadays there are easier and less complicated pom pom makers that I might invest in one day. When another pom pom project tickles my fancy.
Really who needs a true meditation session when you can just wind yarn around a pom pom maker and then turn it into a fluffy, fun little pom pom. So peaceful and relaxing I tell you!
Step 2. Trim the Pom Poms
No matter how you make your pom pom, with a pom pom maker or by using cardboard (I found this tutorial for simple pom poms made with a cardboard template helpful), they will all need some trimming. So a good pair of scissors that haven't been used on paper is essential.
You did know this, didn't you? Always guard your sewing / yarn scissors with your life, let no paper touch them or they will become too blunt to cut through fabric and yarn easily.
To trim the pom poms carefully snip away any threads that stick around and help the pom pom to become round and fluffy. Go easy with the snipping, don't trim away too much at a time.
DO NOT CUT OFF THE LONG THREAD! When you make a pom pom there is a long thread that you pull through the middle. Do not cut that thread. You will use it later to attach the pom poms to the blanket.
Step 3. Cut the Felt Crosses
Once the pom poms are done we move on to cutting the felt crosses. I cut my felt ribbon into squares and then eyeballed my first cross. After that, I used it as a template for all the other crosses.
My crosses were about 2.5 inches tall. But you can make really small crosses (more work) or big ones (fast work) too. Try the size you like best relative to the size of your blanket.
Don't fret too much about perfection here. We are going for a handmade look and striving for perfection kills all the joy in crafting. Just let go and simply cut, cut, and snip away. Again you will be so grateful for your sewing scissors with this step. I don't know exactly how many crosses I cut but I think it must be around 50.
Step 4. Attach Felt Crosses to Fleece Blanket with Hot Glue
Take it from me and one failed attempt to use fabric glue on fleece (doesn't work and makes a mess), use hot glue to glue the crosses onto your blanket. It is by far the easiest and quickest way. I used a simple square coaster to keep the distance between my crosses somewhat equal, with no math involved here (again striving for perfection is the killjoy of crafting).
Step 5. Attach Pom Poms to Fleece Blanket
Normally you don't have to do anything with the raw edges of fleece fabric, because it does not fray. If you'd rather finish the edges anyway make a small seam or zig zag stitch on all sides of the fabric.
I simply sewed the pompoms along the edge of the fleece. Gave them a bit of dangling space.
I spaced them evenly starting at the edges and middle of the fabric.
To sew the pom poms to the edge of the fabric you can use any needle and the long ends of threads that you didn't cut in step 2. Hand sew the pom poms to the fabric and tie them off safely.
I LOVE the texture of the felt and the fluffiness of the wool and the softness of the fleece all working together. A very rewarding little project I must say.
Can You Wash a DIY Pom Pom Fleece Blanket?
Since I made this blanket I received some questions on whether you can wash a DIY pom pom blanket like this.
Every blanket, especially the DIY kind, will be different. Whether or not it is washable will depend on the kind of wool and felt you used and the way you have attached both the pom poms and the crosses to the fleece.
In general, I can say that fleece itself is very easy to wash. Wool and felt can generally be washed at low temperatures in mild cycles. Fabric or hot glue usually takes a washing at low temps easily.
That said I would be very careful in washing a blanket like this. I'd always use a mesh bag to protect the pom poms and I'd first check whether the wool or the felt would leak colors when wet (especially in contrast with my white fleece).
In the end, I opted to use my blanket mostly in a decorative fashion so I didn't risk spilling my hot cocoa on it. I haven't needed to wash it since I made it, it still looks great as is.
I just know that I am going to have so much fun using this throw blanket in my decorating. The pom poms and the crosses make it a nice little accent piece that will just add that little extra flair when I use it on my bed, on the sofa, or over a blanket ladder. Loving how this one turned out.