This DIY pom pom blanket is such a fun craft and you'll be surprised how easy it is to make one. I added felt crosses to make it into a truly original throw.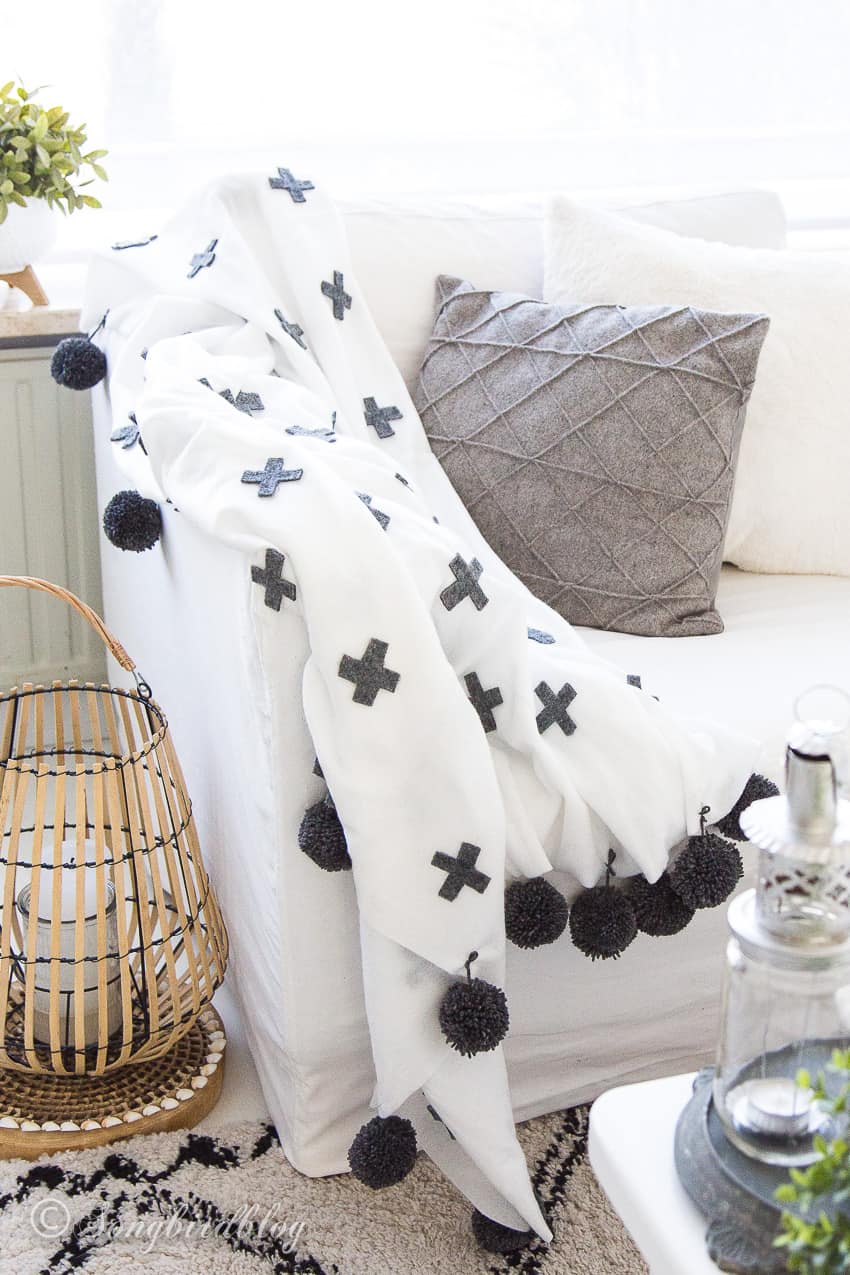 Today I am going to add a little warmth to your life.
Yep, because no matter the season there is always a reason for hot tea, chocolate and a nice cozy throw blanket.
Ok. In the midst of summer heat you can replace the hot tea with a cool drink, but fun, decorative blankets always come in handy.
I present to you a DIY pom pom blanket that is unique, fun, quite a statement piece and not difficult to make at all. Granted it will take more than one hour of crafting but nothing is complicated and all can be done while watching your favorite TV show with one eye. I you can safely handle a pair of scissors and a glue gun, you have all the skills you need.
This post contains Affiliate Links. For more info, see my full disclosure here.
For this DIY pom pom throw blanket I only needed a few materials and I am sure you'll have most on hand anyway.
The materials I used to make this DIY pom pom blanket
A simple fleece blanket in my favorite color. Nothing fancy, even a just a piece of fleece fabric in the right size would work.
About two to three balls of yarn. Choose a a fluffy wool yarn so your pom poms turn out nice and fluffy.
Three to four roles of felt in a matching color to the yarn. Of course enough pieces of felt sheets would work too.
Making this blanket is quite relaxing and zen-like. Although I must admit that it was a bit time consuming. Making about twenty pom poms takes a more than a few minutes but rolling that yarn and rolling more of that yarn and then rolling even more of that yarn does almost feel meditative so I didn't mind.
I used an old pom pom maker that I picked up a the thrift store long ago. I actually had to search Youtube videos to figure out how to use it. Nowadays there are easier and less complicated pom pom makers that I might invest in one day. If another pom pom project tickles my fancy.
Really who needs a true meditation session when you can just wind yarn around a pom pom maker and then turn it into a fluffy, fun little pom pom. So peaceful and relaxing I tell you!
No matter how you make your pom pom, with a pom pom maker or by using cardboard, they will all need some trimming. So a good pair of scissors that hasn't been used on paper is essential.
You did know this, didn't you? Always guard your sewing / yarn scissors with your life, let no paper touch them or they will become too blunt to cut through fabric and yarn easily.
Once the pom poms are done we move on to cutting the felt crosses. I cut my felt ribbon in squares and then eye balled my first cross. After that I used it as a template for all the other crosses. Don't fret too much about perfection here. We are going for a handmade look and striving for perfection kills all they joy in crafting. Just let go and simply cut, cut and snip away. Again you will be so grateful for your sewing scissors with this step. I don't know exactly how many crosses I cut but I think it must be around 50.
Take it from me and one failed attempt to use fabric glue on fleece (doesn't work and makes a mess), use hot glue to glue the crosses onto your blanket. It is by far the easiest and quickest way. I used a simple square coaster to keep the distance between my crosses somewhat equal, no math involved here (again striving for perfection is the kill-joy of crafting).
I LOVE the texture of the felt and the fluffiness of the wool and the softness of the fleece all working together. Very rewarding little project I must say.
I simply sewed the pompoms along the edge of the fleece. Gave them a bit dangling space.
……………………………………………………………………………………………………………………………….
You might like these craft projects too
<< pom pom and tassel decorative charm >>
<< Yarn wall hanging from a unexpected thrift shop find >>
……………………………………………………………………………………………………………………………….
I just know that I am going to have so much fun using this throw blanket in my decorating. The pom poms and the crosses make it a nice little accent piece that will just add that little extra flair when I use it on my bed, on the sofa or over a blanket ladder. Loving how this one turned out.
This post is part of CRAFT WEEK where an awesome group of bloggers have teamed up to bring you a week full of original craft projects with awesome giveaways attached.
Today's CRAFT WEEK post is sponsored by Fairfield World. Make sure to stop by my Instagram here to enter the awesome giveaway!
Want even more craft ideas for National Craft Month? Try the links below as well!
Craft Week Inspiration Projects
Have this Craft Week!