Good day dear friends. I am here to tell you that THAT day has finally come, the day that I show you that big project I have been hinting about for months now. The project that had a steep learning curve for me, and made me overcome some pretty serious fears.
I gave an ordinary IKEA Billy Bookcase a Built-in, custom made look:
This post has been in the making for months, so now that I am finally here, excuse me if I will ramble on a bit. There are so many steps and stages, and thoughts and emotions that I want to share with you that I fear I might end up a bit longwinded. But hang in there because at the end of it all you will know how to make a Built-in Billy Bookcase too, and how to avoid my mistakes!
This bookcase didn't start out like this. It lived the first 10 years of his life as a very ordinary Ikea Billy Bookcase.
Everyone knows Billy, don't you. He has been a house guest in many homes all over the world for 30 years now. All in all about 41 million Billy's have been produced and Ikea still makes about 3.1 million of them each year. Well this particular Billy was at least 10 years old, but still going strong. Just plain boring, like Billy kinda is. But it fit perfectly just behind the bed in our tiny guest room. So I wanted to keep it but make it look a bit less, yeah what, ugly I guess.
So this is what I did. First I went to the clearance section at Ikea and bought myself two extensions to put on top of the Billy. I didn't care about the color because I knew I'd be painting it anyway.
See how tiny this room is, just a door and a Billy wide, and a bed long.
Then I slept on it a couple of days….
Then on clearance I saw this big and mighty power tool I had secretly been craving. So I went to buy it and totally scared away. The tooth on this baby were big, it scared the hell out of me.
In came one email with power-tool-rocking-Donna, who advised me to get over the fear and just buy it if the price was really good (and it was),
So I slept over it some more and bought my own miter saw.
Next it stood in my basement unused for a couple of weeks until I had the courage to find out how to use it.
And then I decided that the worst thing that could happen was that the project would be a total fail. I could live with that. So I educated myself on the safe way to use a miter saw and dove in.
I bought some MDF to fill up the space between the top of my extended bookcase and the ceiling (we have an old house with high ceilings), a nice long stretch of crown molding and various small wood trimmings and started cutting.
And cutting.
Figuring out how to cut the crown molding so that all of the corners fit together nicely was the hardest thing of it all. I used up that 2.5 m (about 2.7 yards) almost completely before I had it right.
I would try to explain it here, but in the end trial and error works best, oh and searching YouTube for videos on how to cut mitered corners in crown molding also helps.
We screwed a little wood against the wall to help keep the MDF up and prevent it from caving in. Then we used liquid nails to glue everything in place and as you can see some painters tape to keep it in place while the glue dried. You can also see here, that there were some gaps en cracks left, but I wasn't worried about them because plaster and caulk would seal those up nicely.
I concealed the crack between the MDF and the bookcase with a small piece of molding. And I applied some decorative wood to the front as well.
Because of my lack of experience it took me about one day of work to get to this point.
Then I solicited the help of another blog friend.
You see I had it in my head that I wanted to use the infamous beadboard wallpaper to cover the back of the bookcase. Except you can't get that stuff anywhere here. Graham and Brown the producers are an English company but they don't sell the beadboard stuff anywhere else than in America. I surfed the internet for days, called the Dutch suppliers for G&B products and even emailed the English headquarters. Nothing could be done.
So I asked the darling Brenda from the blog Cozy Little House if I could have a role delivered to her house and if she would be so kind to send it along. And she did!! Thank you Brenda, you are a life saver.
It took about six weeks before it arrived, but then I had my precious beadboard wallpaper in my hands.
Here you see it covering the back of my bookcase nicely but that isn't the end of this story.
Important message for all beadboard-wallpaper-loving-gals
First as it turned out I had ordered the wrong wallpaper (or so I thought), after looking for it for months you would think I would have noticed there were two kinds. Pre-pasted and non-pasted, I ended up with the non-pasted kind. Well no worries I thought, I have wallpaper paste here, I'll just paste it myself and so I did. That wallpaper was up in about an hour, measuring and cutting was the most time consuming and it sat snug as a bug.
It looked great! And I went to bed with the warm glow of thinking tomorrow I can finally start painting.
Except…..
The next morning my wallpaper looked disastrous (I apologize for  not having a picture of the disaster, but when I discovered it my mood was so foul that taking pictures was the last thing on my mind).
The wallpaper had shrunk!!
Yes wallpaper can shrink, especially foam based wallpaper like the beadboard one.
The edges of the paper had come loose and there were big, irreparable gaps everywhere. Total fail!
I went to a specialist and learned this:
Wallpaper paste needs to be able to suck into the wall it is pasted on. You need a background with absorbent qualities. And a laminated bookcase back does no absorbing whatsoever. The pasted wallpaper dries up unevenly then and the edges shrink. He advised me to give the back a good sanding and hope for the best.
Rhoda from Southern Hospitality informed us recently that the manufacturer is replacing the pre-pasted wallpaper for non pasted one. So that is bad news for the kind of projects we do with it. Cabinets, backsplashes and doors, are all non-absorbent surfaces and you might get in trouble with it there. For more information on Graham and Browns changes to the beadboard wallpaper go to this post by Rhoda.
I suggest we should form a social media front of DIY women who demand pre-pasted beadboard wallpaper and while we are at it that it be made available in Europe and Australia as well.
Ok back to my built-in. I decided not to do the sanding (I had only enough wallpaper left for one try) and instead used double sided tape. It worked but it was much more difficult to get right, there is no room for wiggling and adjusting then. So my second attempt didn't quite end up as snug and beautiful as the first, but at least it stayed stuck.
Then there was caulking, a lot of caulking
As you see here, all the cracks and crevices were already practically invisible after the caulking.
Next up was cutting and gluing some fake supports for the shelves and filling up all the little tell-tale holes.
And here she is after all that. Ready for her first paint job.
I used a quality primer on it because of the combinations of materials: laminated wood, raw wood, MDF. I wanted something that would stick to anything. The stuff went on as a dream but it stank up the place for weeks.
I fully intended to let it cure for at least 48 hours to make sure it stuck to the laminate well. It ended up curing for almost two months, I guess it was dry after that…..
I choose a white with a grayish undertone for the finish. And all was well.
Except that it is so difficult to get a good shot of all that white on white. The camera had nothing to focus on. So you are not able to enjoy the full effect of how wonderful it looks.
But is does. The bookcase totally blends in with the room now and looks as if it was built especially for that spot (which in fact it kind of is).
And yes I know there is still a gap between the bookcase and the left wall. I hate it too. But in our old house the walls aren't straight and I just couldn't figure out a way to cover it up that would still look good. So I decided to live with it. After all, it doesn't have to be perfect to be beautiful.
To see the full dramatic effect of the before and after hover your mouse over the next picture (you will have to come to the blog, if you are reading this in a reader).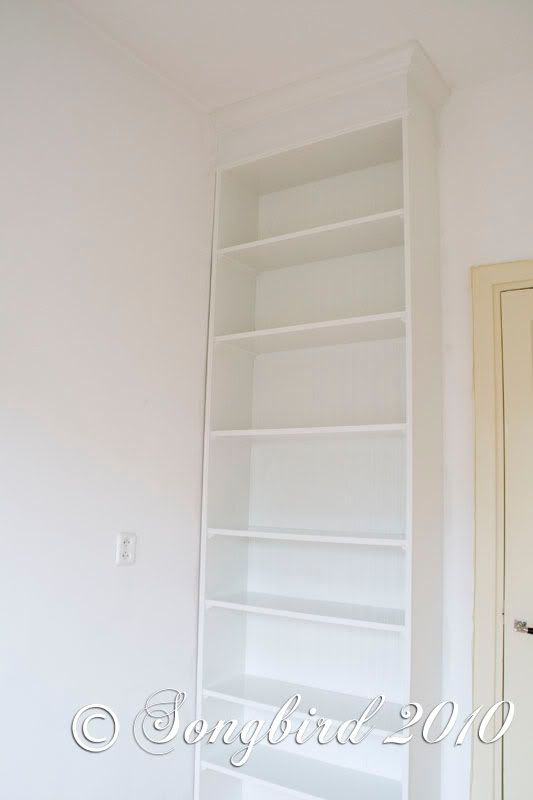 Quite a change! So what do you think? Was it worth all the work?
I think it was, if only because of all the new things I learned.
And the courage it gave me that if I just start and try, I can do it. And so can you!
An empty bookcase begs to be filled.
I wrote a post on how to decorate and style a bookcase here.
See my BBB (Billy Built-in Bookcase) in full use here.
And the full room reveal of my tiny guest room is here.