Painting a faux concrete wall is easier than you might think and you don't need any special paints to get this effect. Let me show you how I created my faux concrete wall finish in just 5 easy steps.
Hello lovelies, I have a DIY project for you today. It is a project I did in my bathroom and I am so happy and pleased with the look I created. It is a bit of a step away from my usual bohemian whiter than white style, instead I added a bit of a rustic, industrial vibe. And I am totally digging it. I'll show you a full bathroom reveal soon and then you'll see that I have actually gone for a nice mix of styles that turnedd out to be very me.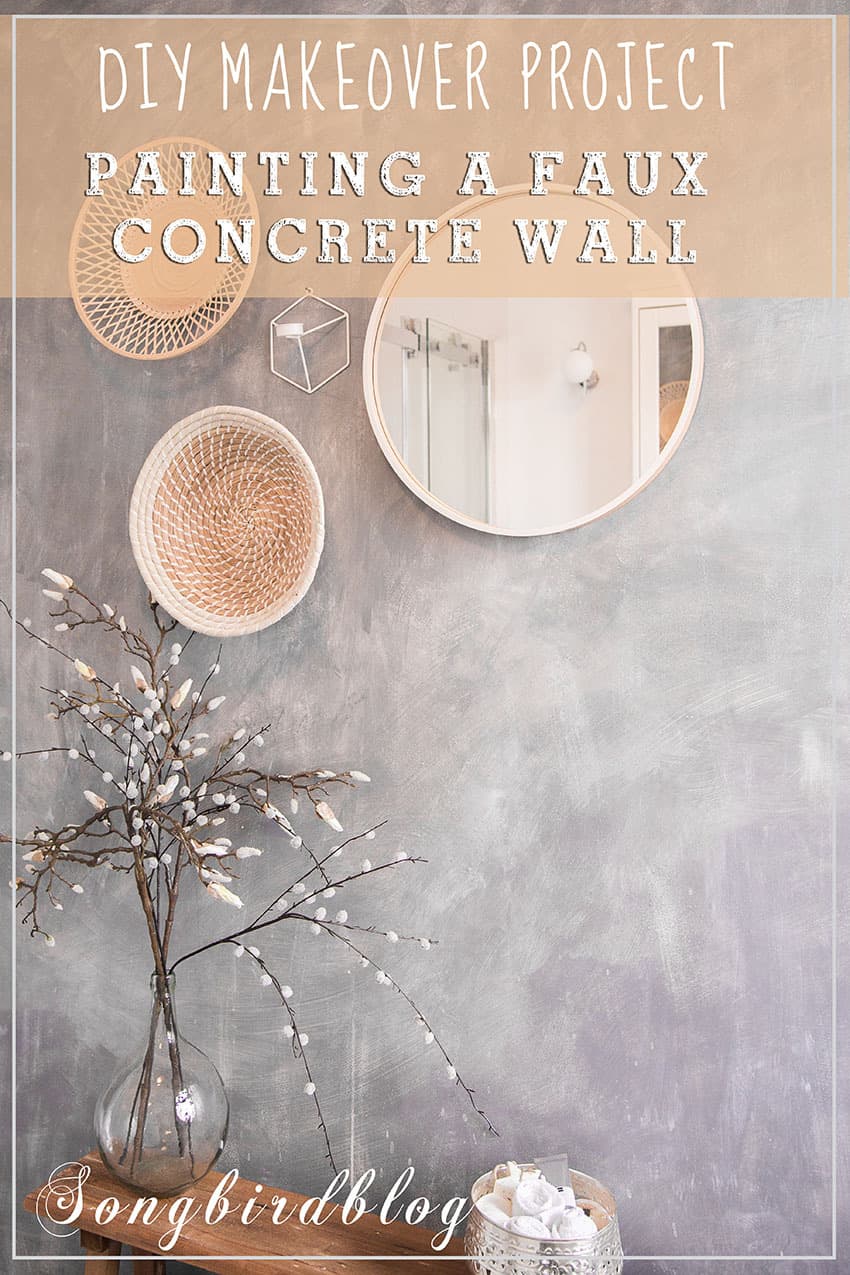 I created a faux concrete wall finish on the largest and completely empty wall in my bathroom. I actually designed my bathroom around this focal wall and kept it empty exactly for this purpose.
This post contains some Affiliate Links for your convenience (which means if you make a purchase after clicking a link I will earn a small commission but it won't cost you a penny more!). For more info, see my full disclosure here.
The whole process of painting this concrete wall finish didn't take up more than a couple of hours. We worked at it as a team, which made the whole process extra easy and doable. But I am sure it would have been just as easy to do it by myself, it just would have taken me an extra hour or so.

After the basic prep work like: removing dust and dirt from the wall, taping of the edges and covering the floor there are only five easy steps to follow.
5 Easy Steps to create a faux concrete wall finish
Paint the wall with your medium grey paint and a block brush with arched brush strokes
Follow up with a wet cloth and soften and smooth the edges and strokes
Use a scrounged up wet cloth and dab on extra texture
With an almost dry block brush add vertical brush strokes with white or very light grey paint
Use a wet cloth to smooth the white paint and work it into the base layer
Bonus tip: Work in smaller sections so your paint doesn't dry between the brush and cloth steps. And frequently step back to look at your work from a distance.
Now that is easy! Didn't I say so!
I think the close up image above sums up all of those five steps pretty well. You can see the arched brush strokes, the added smoothing and texture and the smoothed out vertical stripes as well. And when you take a step back it just looks almost like the real thing.
……………………………………………………………………………………………
Related Reading
<<<< Chalk Paint Review >>>>
<<<< How to paint suitcases >>>>
<<<< How to reupholster a chair >>>>

……………………………………………………………………………………………
This wall makeover project sure is a major home improvement project! Which is just right since it is my entry to this month's DIY Home Improvement Challenge which was a home improvement project.
Click the link below to see what all those other talented ladies came up with for this month.
See more DIY Home Improvement Projects
And while you go over there and peruse the other projects, I'll just be here. Soaking in my tub, giving myself an at home hammam treatment while admiring my homemade concrete wall.
Win my eternal gratitude by sharing, liking or pinning this post ?

Well guys this is it for today. Hope you like my new wall and that you will come back for the full bathroom reveal soon!